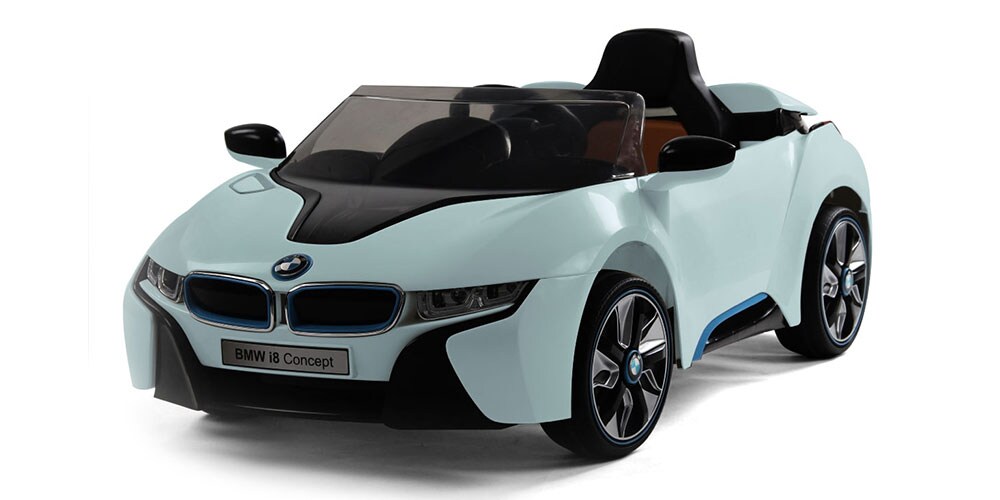 Daymak BMW i8

$549.00 + Shipping + Taxes
Drive in style with the BMW i8 for kids. Features built-in speakers with music channels, MP3 connection to play your tunes. Real sound of engine and horn and headlights that make a truly satisfying and genuine experience. The interior of the BMW i8 is safe to ride for your kids ages 2 and above and approved by BMW . Features a remote control which allows parents to have fun or control the action until their child can ride on his/her own skills. Your child will enjoy every minute of driving the car safely and securely.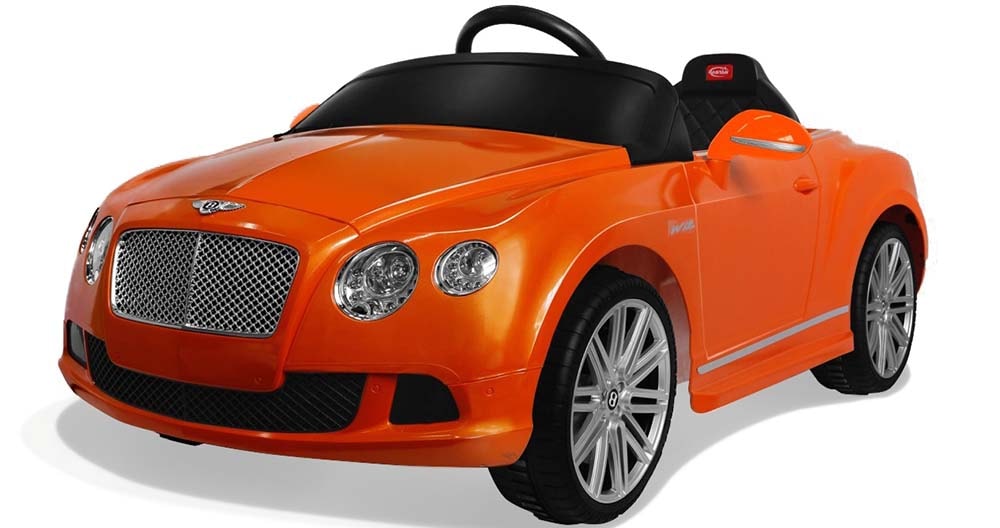 Bentley Continental
$599.00 + Shipping + Taxes
This Bentley Continental Kids Ride on toy, offers kid's hours of fun while looking stylish as they go down the road. A licensed Bentley toy car, the Continental GT is really one of the sharpest ride on toys on the market. The Bentley electric kids ride on has features like turn signal indicators, LED headlights, 2 speeds, and Reverse drive and key ignition. The Bentley kids ride on also comes with remote control functionality so that you can control the car from a far to make sure your child doesn't get themselves into trouble. Ride time can be up to 2 hours with a 6 - 8 hour charging time. Makes for a perfect gift for any child from 3 - 9 years old. Get yours today!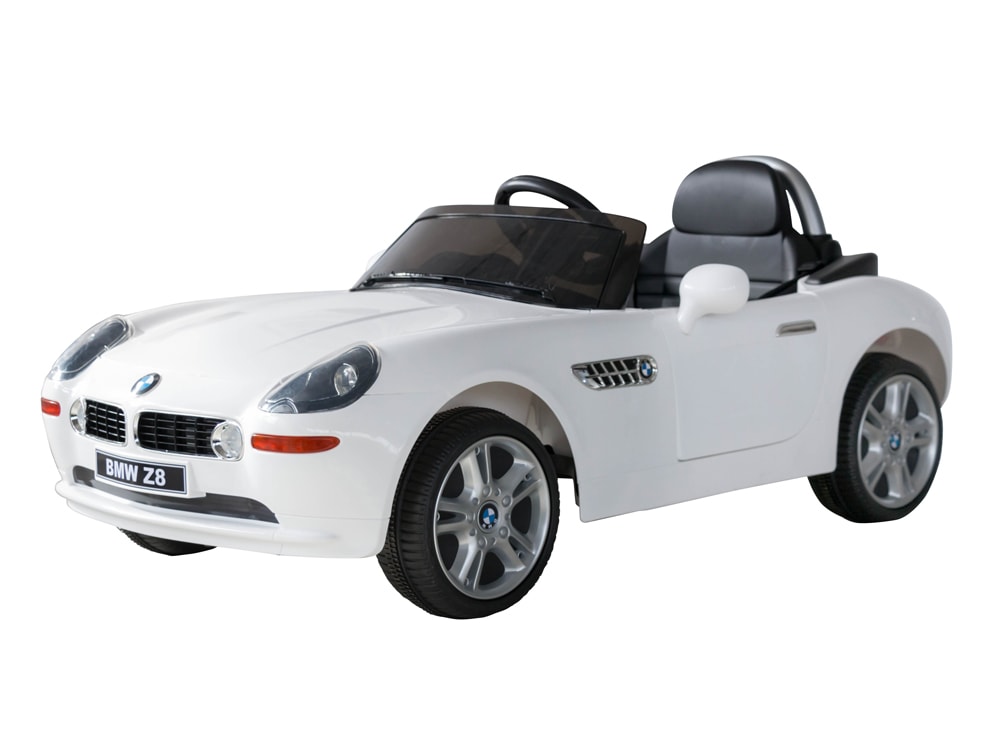 BMW Z8

$349.00 + Shipping + Taxes
The BMW Z8 kids ride on is another awesome Daymak fully licensed BMW electric car. The Daymak BMW Z8 has a dual motor 12V battery system that offers children hours of fun! The BMW Z8 can be used by either the rider or by the parent controlled by remote control for safe fun. Connect your mp3 player to the Z8 to play the top songs. Get up to speeds of 5 km/h and make your kid the envy of the block. Get the Daymak BMW Z8 electric ride on car today.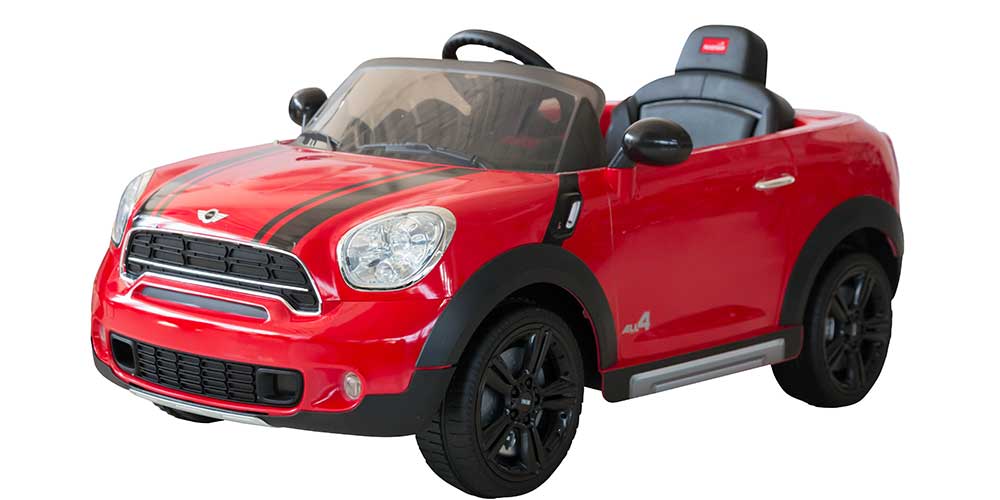 Mini Countryman

$599.00 + Shipping + Taxes
The Daymak Mini Countryman is the next licensed motorized ride-on toy licensed by Mini. The larger Mini Countryman comes in white, blue and red, and has a 12V motor for the additional power and run time. It comes with LED headlights turn signals, F/N/R Transmission with two speed controls for speeds to go up to 5 km/h. Choose to let your child ride on their own accord or control it manually with a remote control so they can cruise and just enjoy the view. Plug in your digital MP3 player and play their favourite tunes while they ride, but don't forget to charge it when the indicator light comes on. Great for a run time up to an hour and charge it for 8 hours so you're ready to go again! Get the Daymak Mini Countryman electric ride-on and be sure to make a lasting impression on any kid that rides one!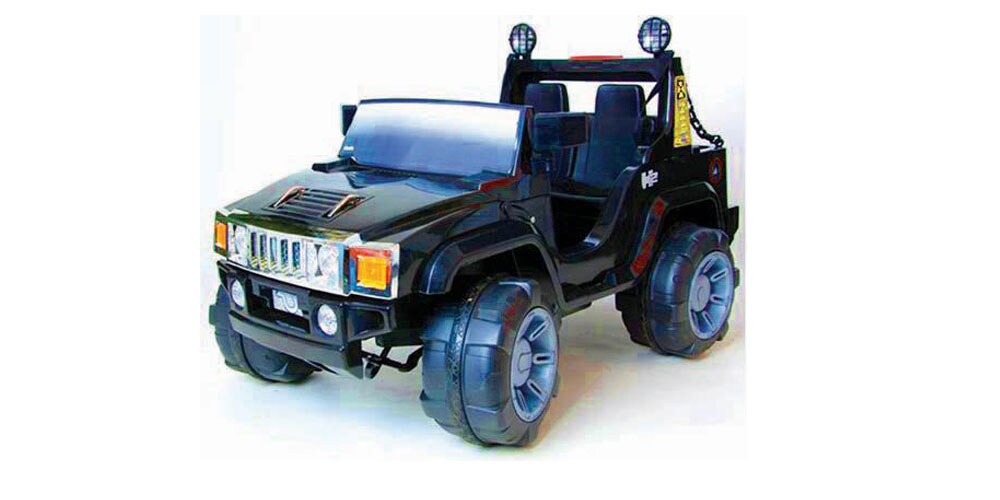 Hummer H2

$449.00 + Shipping + Taxes
This monster vehicle was designed to look and feel just like the real thing. The only difference is that our H2 is miniaturized to fit your child and a passenger and there is no need to worry about pollution or gas prices! The H2 will let your child feel like a grownup in control of their own destinies with its manually operated pedals for stop and go and an easy to turn steering wheel. Sitting on Monster wheels, the H2 is packed with features ranging from forward and reverse capabilities, working horns and lights, and adjustable seat belts!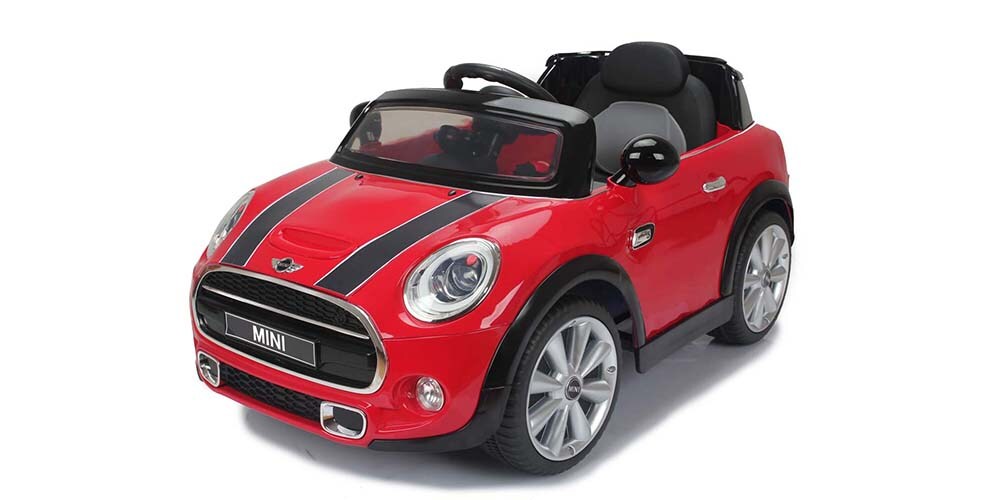 Mini Cooper

$399.00 + Shipping + Taxes
MINI COOPER ride on car with full remote. Your child will feel like they have their own real-life car with this Mini Cooper S 6v electric ride. It even has authentic Mini Cooper racing stripes and emblems! The realistic look only gets better with real chrome accents, horn and engine sounds, a textured steering wheel and two-tone body paint. This 6v model offers 3 speeds (2.5mph or 5mph moving forward and 2.5mph in reverse). The Mini Cooper S 6v also has awesome low profile tires on 12" rims! So nice and so realistic you'll wish we made one big enough for Mom and Dad. The Mom and Dad can control the car via remote which is included until child is ready to take charge. Available in British racing green, blue and red.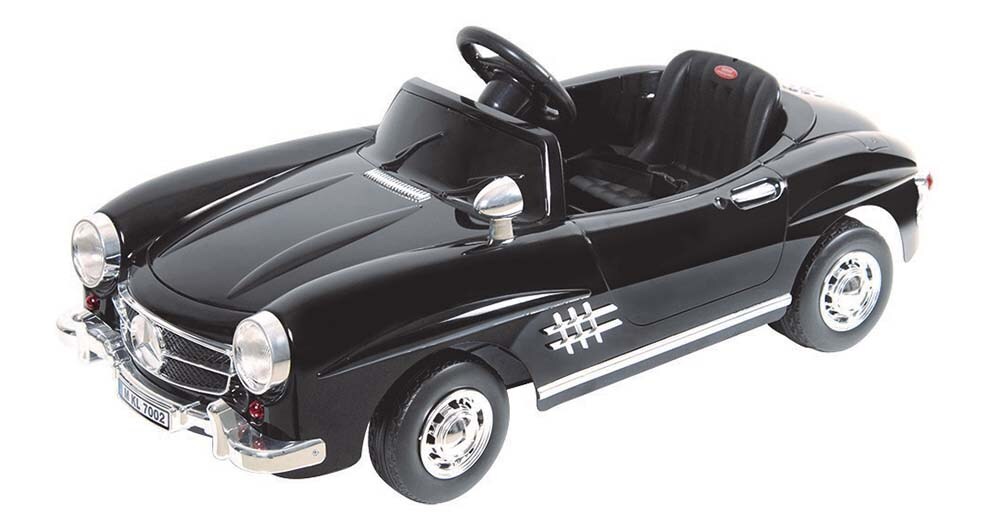 Mercedes-Benz 300SL
$399.00 + Shipping + Taxes
The Mercedes Benz 300 SL Kids ride on toy is an electric car that is perfect for kids from 3 - 9. A near replica of the 1954 Mercedes Benz Roadster this toy car has all the functions that you would need to make sure that your kid has both a safe and fun drive. Have your child take control of the wheel with F/N/R drive control, or take control yourself via remote control for extra security. The Mercedes Benz 300 SL ride on toy comes with working horn and car sounds and LED headlights. Get up to an hour of continuous drive time with a single charge and charge times of between 6 - 8 hours. Show off a bit with this classic Mercedes ride on toy!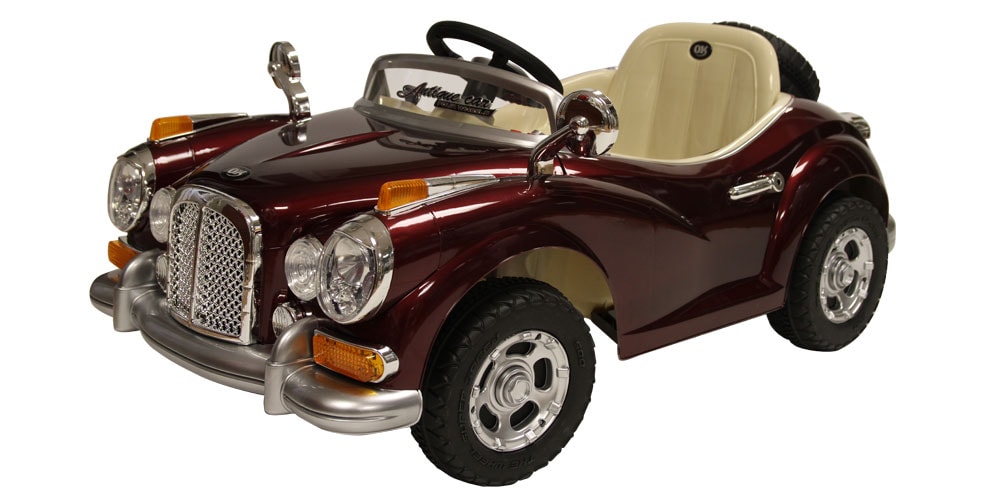 Phantom
$349.00 + Shipping + Taxes
The Phantom Toy Car. 12V toy car with full remote (you can control your child!) Psychedelic lights and multiple songs will keep your child entertained for hours. Features leather seats and a full spare tire!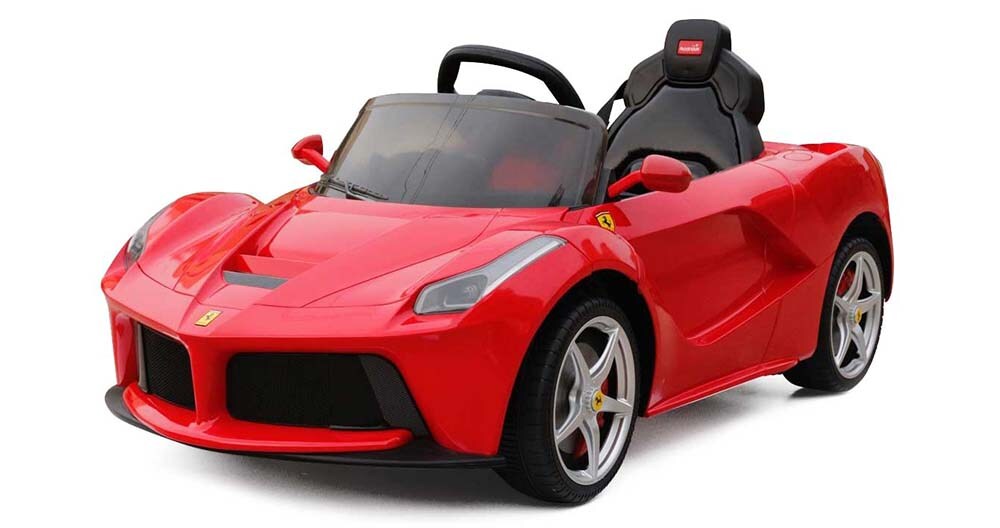 Daymak Ferrari LaFerrari
$649.00 + Shipping + Taxes
La Ferrari is the top of the line of the Ferrari. If only the best will do for your child, this car is for you. This is an official Ferrari approved product in classic red. Features a double engine! It can go forward, backward, turning around, this ride-on car is almost designed with all the functions that a real car could have. Pushing the start button turns the dashboard display on and produces the engine start-up sounds. From the gear shifter to the F1 style steering wheel, all of the controls are within easy reach and intuitive for Kids to operate. In addition to buttons for lights and turn signals, there is also a Remote/Manual switch that when set to RC, allows a parent to steer the car in all four directions using the remote control. With music and light in the car, your children will enjoy a great experience just like the adults do in a real car. The only difference is the speed which is designed more suitable and safer for a child from 3 to 8 years old. With this brand new La Ferrari ride on car, your kids would have a fantastic childhood memory.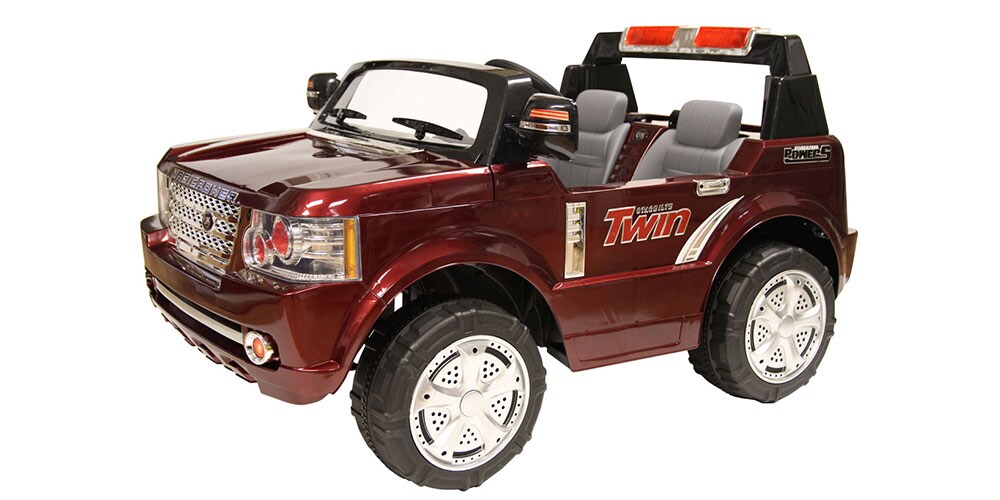 Daymak Magic 12V
$599.00 + Shipping + Taxes
The Magic 12v Toy Car with full remote (you can control your child!) has psychedelic lights and multiple songs that will keep your child entertained. The Magic 12v also comes loaded with MP3 hookup to be able to play your own music while cruising around at up to 5-10km/h. With the largest amount of space of any of our toy cars, the Magic will suit most kids well into their first growth spurt.